Thank you for visiting our page to learn about the team at Animal Hospital of San Luis Obispo!
We are pleased to be staffed with a team of friendly, experienced veterinarians and support staff to care for your pet.
Our team is currently in the process of updating their biographies so check back soon to learn even more about the team providing quality care to your pet!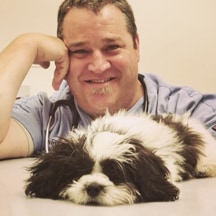 Dr. Cody Lewis, DVM – Practice Owner/Medical Director
Dr. Cody Lewis grew up in Northern California, where his father was a farrier (horseshoer) and raised livestock. After being raised around animals and inspired by his father's love for them, he was driven to pursue a career as a veterinarian. He attended Cal Poly for his undergraduate studies in biochemistry and instantly fell in love with the Central Coast. He then went on to complete his Doctorate of Veterinary Medicine at Kansas State University.
As the owner of Animal Hospital of San Luis Obispo, Dr. Cody Lewis works with small animals and practices strict guidelines issued by the American Animal Hospital Association (AAHA). AAHA is the only organization to accredit companion veterinary hospitals in the U.S. and Canada. At our two hospitals, Dr. Cody Lewis and the team hold themselves to a higher standard in veterinary medicine. Pets are their passion, and keeping them healthy is their #1 priority. They strive to deliver excellent care for pets. Why? Because pets deserve nothing less.
Dr. Michael O'Hara, DVM – Associate Doctor
Dr. Michael O'Hara grew up in Orcutt, CA, and studied molecular biology and biochemistry at University of California Santa Cruz. He initially began working in the local veterinary medical community as a veterinary technician, and he went on to earn his Doctorate of Veterinary Medicine at Western University before returning to the Central Coast.
In his free time, Dr. O'Hara enjoys golfing and hiking with his wife and three dogs.
Lori, Veterinary Assistant
Lori joined the Animal of Hospital of San Luis Obispo team in March 2015. A local girl from Shell Beach, after years of college and changing majors, she decided to pursue her childhood passion of working with animals. Lori finished the RVT program at Hancock College and is collecting her clinical hours in order to take the state boards in 2017. When Lori is not working with animals she likes to wakeboard in the summer, snowboard in the winter, and spend time with her kitty named Gator whom she adopted 3 years ago.
Sarah Reggiardo, Veterinary Assistant
Sarah graduated from CAL Poly SLO in 2015 with a BS in Pre-Veterinary Animal Science and is currently working on her veterinary school requirements. In her spare time, Sarah performs with local theater and choral groups. She has been working in the veterinary field for over 2 years and is thrilled to be a part the Animal Hospital of San Luis Obispo family.
Jessica Bitters, Veterinary Assistant
Jessica joined the Animal Hospital of San Luis Obispo team in September 2016. Originally from Santa Barbara, she moved to San Luis Obispo to attend Cal Poly. Jessica will graduate in June 2019 with a bachelors degree in Animal Science with a concentration in pre-veterinary medicine. She hopes to go to veterinary school to become a companion animal vet. In her free time, Jessica enjoys painting and visiting her home to spend time with her dog, Coco, and her cat, Mocha.
Gina (Giovannina) Kirkley, Veterinary Assistant
Giovannina (Gina) Kirkley grew up in Northern California where she graduated from the Veterinary Technician program at Santa Rosa Junior College in 2016. She has worked in the Veterinary field since 2011, and has worked all over California as her husband traveled for the military. She plans on taking the test to become a Registered Veterinary Technician very soon. She loves more than anything to be at home with her two dogs (Abby and Mira) and three cats (Quora, Sterling and Farnsworth) who completely run her life.
Dan, Receptionist and Assistant Float
Dan is our newest team member at Animal Hospital of SLO. Dan's passion for animals began in 1998 with a yellow lab named Giuseppe that led to his career in the veterinary field almost 7 years ago. When he's not working Dan enjoys working around the house, photography and golf. Spending time with his wife Dennise and dog Dora is something he looks forward to in his free time.
Brandy, Receptionist
Brandy discovered her love for animals while spending time at the lake with her family dog, Alex, a black lab. She worked as a grooming assistant in Iowa for 5 years where she took on additional roles within the hospital. Soon after moving to the Central Coast she began to miss working with animals and started at the Animal Hospital of San Luis Obispo in August 2015. Brandy lives with her boyfriend, her dog Chandler, and cat Amigo.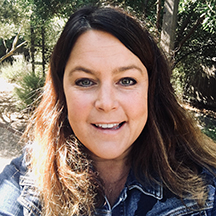 Heather Lewis, Social Media/Marketing Director
Heather wears many hats for Primary Care Animal Hospital and Animal Hospital of SLO. She manages the central business office and financial operations of the clinics. When she is not at the business office, you will find Heather enjoying her time with Cody Lewis and their son Noa. She loves to incorporate their outings with their beloved dogs Wyatt Earp, Skylar and Cali. Heather is thankful for the opportunity to be part of a wonderful pet-friendly and family-oriented community!
Grace
Grace is a SLO local, who is currently attending Cal Poly to pursue a career in Veterinary Ophthalmology. She has been in the veterinary field for over 2 years. She has 2 border collies, Caragh and Dexter, as well as a 9-year-old Aussie named Finley and a host of other small critters. When not at work or school she can most often be found training dogs or riding her horse, Keela.