Here at Animal Hospital of SLO, we are proud to provide a team of friendly, experienced veterinarians and support staff to care for your pet. Our doctors, technicians, and office staff strive to provide the best care available, and each member of our team has a history of caring, compassionate service.
Explore our staff biographies to learn where we're from, how we came to veterinary medicine, and why we love the work we do!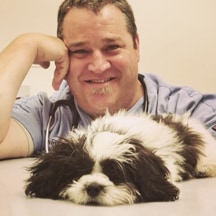 Dr. Cody Lewis, DVM – Practice Owner/Medical Director
Dr. Cody Lewis grew up in Northern California, where his father was a farrier (horseshoer) and raised livestock. After being raised around animals and inspired by his father's love for them, he was driven to pursue a career as a veterinarian. He attended Cal Poly for his undergraduate studies in biochemistry and instantly fell in love with the Central Coast. He then went on to complete his Doctorate of Veterinary Medicine at Kansas State University.
As the owner of Animal Hospital of San Luis Obispo, Dr. Lewis works with small animals and practices strict guidelines issued by the American Animal Hospital Association (AAHA). At AHSLO and our sister hospital, Primary Care Animal Hospital in Arroyo Grande, Dr. Lewis and his team hold themselves to the highest standards in veterinary medicine and strive to deliver excellent care to every pet. Why? Because pets deserve nothing less!
Dr. Kelley Zucker, DVM – Associate Veterinarian
Dr. Kelley Zucker grew up in southern California before attending Cal Poly SLO for her undergraduate degree. She attended Veterinary school at St. George's University in Grenada, then completed a one year medical/surgical internship in Brooklyn, New York. Dr. Zucker practiced in Massachusetts and New York for 10 years before she finally had enough of the long cold winters and returned to San Luis Obispo in 2020. She now lives in SLO with her husband and two kids, their dogs Terry and Penny, and cats Bruce and Bunny. When not at work she enjoys exploring SLO County with her family, DIY home improvements and furniture rehab, and watching Bravo.
Dr. Chelsea Dauer, DVM
Dr. Dauer grew up in Los Osos and received her Bachelor of Science degree from Cal Poly, San Luis Obispo in 2011. She graduated from St. George's University in January 2017 with a doctorate degree in Veterinary Medicine. She attended Virginia-Maryland Regional College of Veterinary Medicine at Virginia Tech, for her clinical year. Dr. Dauer has been working as a small animal veterinarian on the Central Coast since 2017.
Outside of practicing veterinary medicine, Dr. Dauer enjoys riding her horses, hiking with her dogs, wakeboarding at the lake, and playing soccer. Locally, Dr. Dauer also volunteers with Coast Mounted Assistance in Montana de Oro and the Horse Emergency Evacuation Team.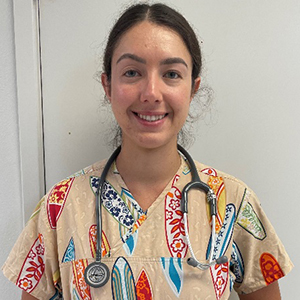 Kim Babcock
RVT – Lead Veterinary Technician
Kim grew up in San Bernardino County and moved to San Luis Obispo County in 2014 to pursue her bachelor's degree in Animal Science at Cal Poly. After graduation in 2019, Kim continued her professional development by obtaining her license as a Registered Veterinary Technician (RVT). From a young age, Kim knew she wanted to work animals and never considered an alternate career path. In her spare time, Kim can be found walking on the beach or hiking with her two dogs: Ashley and Charley.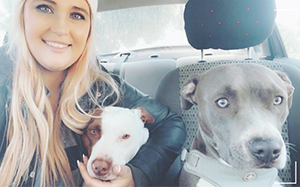 Bunny Cromer
Veterinary Technician
Bunny grew up in Maui, Hawaii for the first part of her life, then moved to Carlsbad before residing in San Luis Obispo County. She has 12 years of clinical experience in the field and has also worked with exotics. She has an associate's degree in American Sign Language and will to continue her education to get her RVT license. She has always had a love for animals and being an advocate when they don't feel well and making them feel safe when they come to place unknown to them. Bunny has two pit bulls, a red nose named Aryin and a blue nose named Rylee. In her spare time, she takes her dogs to dog park, the beach and spending most of my time with them. They are her fur babies and I have so many many amazing memories with them!
Evangeline Baustista
Veterinary Assistant
Evangeline is from Thousand Oaks, CA and is a senior at Cal Poly studying animal science on the pre-veterinary path. She has always been around companion animals, growing up with her own family dogs and volunteering at a local animal shelter in her hometown. Evangeline is currently in the process of applying to veterinary schools and hopes to receive her DVM focusing companion animals. In her free time, she loves to go hiking and reading. She has 2 dogs at home named Coco and Cooper.
Miley Plaza
Veterinary Assistant
Miley Plaza grew up in Stockton, CA and came to SLO to study Animal Science at Cal Poly San Luis Obispo. She is currently a junior on the Pre-veterinary tract with a minor in biology. In addition to working with dogs and cats here at the clinic, she has worked closely with exotics at a rescue zoo in Paso Robles for two years. She will be applying to Veterinary school following the completion of her undergraduate degree at Cal Poly, and plans on specializing in wild and exotic animal medicine. When not at work or school, Miley's free time is spent with her dog Pismo, hiking, surfing, and going to the beach.
Maya Bollapragada
Veterinary Assistant
Maya is from San Diego, CA and is a third year Animal Science major on the pre-veterinary track at Cal Poly San Luis Obispo. Growing up, Maya has always loved spending time with animals and spent her free time working at animal clinics and volunteering at animal shelters. She also began working at clinics prior to coming to college. After moving to SLO, Maya has not only worked with small animals in our clinic, but has also worked closely with different livestock animals at Cal Poly. Maya is planning on applying to vet schools after finishing her undergraduate degree. In her free time, Maya enjoys exploring SLO and spending time with her friends and family.
Presley
Veterinary Assistant
Presley grew up in the Central Valley of California and moved to the Central Coast in 2021 to attend Cal Poly as a pre-vet student. She joined the PCAH team in September 2021 as a Veterinary Assistant. She has always dreamed of becoming a Veterinarian and has grown up being surrounded by horses, pigs, sheep, goats, dogs, and cats. Some of her favorite things to do in her free time are ride her horse, foster puppies, and go to the beach with her dogs. She is hoping to graduate from Cal Poly in 2023 and apply to vet school.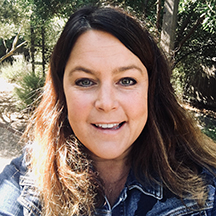 Heather Lewis
Practice Administrator
Heather wears many hats for Animal Hospital of San Luis Obispo and Primary Care Animal Hospital, including managing the central business office and financial operations of both clinics. When she is not in the office, you will find Heather enjoying her time with husband Cody and son Noa. She loves to involve their beloved dogs Wyatt Earp, Skylar, and Cali in their outings, especially taking the whole family to the beach. Heather is thankful for the opportunity to be part of the wonderful pet-friendly and family-oriented community AHSLO supports!
Brandy Kosters
Front Desk/Client Relations
Brandy discovered her love for animals while spending time at the lake with her family dog Alex, a black lab. She worked as a grooming assistant in Iowa for five years, where she also took on additional roles within the hospital. Soon after moving to the Central Coast, Brandy began to miss working with animals, and she started at AHSLO in August 2015. Since then, Brandy has become a familiar face when clients first enter the hospital. When not working, Brandy enjoys cuddling her two adopted orange tabbies, Tyler and Katie.
Anita Wasserman
Accountant
Bio coming soon!