Here at Animal Hospital of SLO, we are proud to provide a team of friendly, experienced veterinarians and support staff to care for your pet. Our doctors, technicians, and office staff strive to provide the best care available, and each member of our team has a history of caring, compassionate service.
Explore our staff biographies to learn where we're from, how we came to veterinary medicine, and why we love the work we do!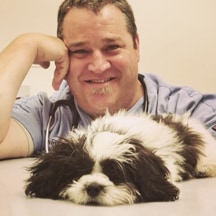 Dr. Cody Lewis, DVM – Practice Owner/Medical Director
Dr. Cody Lewis grew up in Northern California, where his father was a farrier (horseshoer) and raised livestock. After being raised around animals and inspired by his father's love for them, he was driven to pursue a career as a veterinarian. He attended Cal Poly for his undergraduate studies in biochemistry and instantly fell in love with the Central Coast. He then went on to complete his Doctorate of Veterinary Medicine at Kansas State University.
As the owner of Animal Hospital of San Luis Obispo, Dr. Lewis works with small animals and practices strict guidelines issued by the American Animal Hospital Association (AAHA). At AHSLO and our sister hospital, Primary Care Animal Hospital in Arroyo Grande, Dr. Lewis and his team hold themselves to the highest standards in veterinary medicine and strive to deliver excellent care to every pet. Why? Because pets deserve nothing less!
Dr. Kelley Zucker, DVM – Associate Veterinarian
Bio coming soon!
Sarah Mezzapesa
RVT – Lead Veterinary Technician
Sarah grew up in Paso Robles, and she has been working in the veterinary field since she was a teenager. Sarah is a licensed Registered Veterinary Technician (RVT) with 15 years of clinical experience in the SLO community and beyond, and she enjoys the opportunity to mentor our Cal Poly student assistants while providing the highest quality of care and support to our patients and clients. Sarah is recently married to her husband Steve; in her spare time, she loves to hike with her "one and three-quarters dogs" – an Old English bulldog named Bo and a three-legged Hawaiian rescue named Toby.
Grace Miyahara
Veterinary Assistant
Grace is a SLO local who recently graduated from Cal Poly with her Bachelor's degree in Animal Science. She has always had a passion for animals, and this winter she will start school at Ross University School of Veterinary Medicine to earn her DVM and hopefully go on to specialize in veterinary ophthalmology. Grace also runs the breeding group Poindexter Border Collies, shows champion dogs, and hosts a private dog training program out of her home. When not at work or school, Grace can be found enjoying the outdoors with her four Border collies Caragh, Deakon, Stout, & Rubble, and her horse Keela.
Kelsey Long
Veterinary Assistant
Kelsey grew up in Davis, CA where she raised goats and pigs for 4-H and FFA. She came to SLO to study animal science at Cal Poly, and she is currently a senior with a concentration in veterinary medicine. In addition to working with companion animals and livestock, Kelsey also enjoys working with the horses in Cal Poly's Equine Unit. Kelsey is in the process of applying to veterinary schools, and she hopes to pursue her DVM immediately after finishing her undergraduate degree. Kelsey's free time is spent hiking and going to the beach. She has a cat named Maxi and a dog named Leia.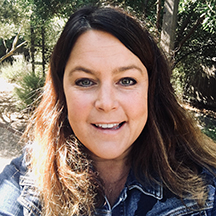 Heather Lewis
Practice Administrator
Heather wears many hats for Animal Hospital of San Luis Obispo and Primary Care Animal Hospital, including managing the central business office and financial operations of both clinics. When she is not in the office, you will find Heather enjoying her time with husband Cody and son Noa. She loves to involve their beloved dogs Wyatt Earp, Skylar, and Cali in their outings, especially taking the whole family to the beach. Heather is thankful for the opportunity to be part of the wonderful pet-friendly and family-oriented community AHSLO supports!
Sonja Dobbs
Hospital Manager
Sonja is a Central Coast native who has been an animal care professional for over a decade. Sonja received her Bachelor's degree in Zoology from the University of Hawaii at Manoa, and completed graduate education in animal welfare at the University of British Columbia. She has experience in small animal and exotic medicine, wildlife rescue/rehabilitation, companion animal behavior and training, and wildlife research and conservation. Sonja was very grateful to spend a summer in college interning with Dr. Lewis, and she loves working closely with him and the rest of the team to ensure excellence of care at AHSLO. In her free time, you can find Sonja volunteering in local feline rescue (adopting more cats!) or enjoying the beach with her fiancé Justin and rescue dog Rosie.
Brandy Kosters
Front Desk/Client Relations
Brandy discovered her love for animals while spending time at the lake with her family dog Alex, a black lab. She worked as a grooming assistant in Iowa for five years, where she also took on additional roles within the hospital. Soon after moving to the Central Coast, Brandy began to miss working with animals, and she started at AHSLO in August 2015. Since then, Brandy has become a familiar face when clients first enter the hospital. When not working, Brandy likes to spend her free time cuddled up at home watching Netflix with her black and white Shih Tzu named Chandler.
Hannah Hochderffer
Front Desk/Client Relations
Hannah has lived on the Central Coast her entire life, and she has always been passionate about animals (especially bats!). She started volunteering at Santa Maria Valley Humane Society at the age of 13, and she has been working with animals in one way or another since then. Hannah completed her Associate's degree at Cuesta College. She spends her free time relaxing with her dog, Daisy, and her two cats, Margo and Penelope. In addition to serving the AHSLO pet community, Hannah also enjoys breeding crested leopard geckos.
Anita Wasserman
Accountant
Bio coming soon!